Michael Kenmir,
Fan Guest of Honor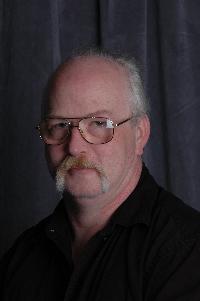 Michael Kenmir started in Northwest Fandom in the mid 70's but prior to entering NW Fandom Michael was a Theatre Geek, theatre was and still is his first love. He has been a professional actor, A small theatre director, lighting designer, set and costume designer (He had also designed and built parade floats for the Lacey International Music, Art and Dance Festival and received several awards over the years for his designs). He was a ballet dancer and performed at the Spokane World's Fair in 1974 and has been a choreographer, he taught Ballroom dancing as well. If it dealt with ANY aspect of Theatre he was learning and putting it into practice. THEN, he got into Science Fiction Conventions. AND I brought all of that knowledge to NW fandom. It all started with Puget Sound Star Trekkers, then on to Norwescon and the creation of the Star Dance and Opening Numbers. While bringing theatre to Norwescon 'we' (the tech crew) turned its attention to the Costume Contest (later known as the Norwescon Masquerade) and full theatrical lighting and sound were added to the event. Now also during this time there was a TV show called Battlestar Galactica, so as a lark the tech crew thought it would be great to have a Live Action Role Playing (LARP) group as there were pirates referenced in the original pilot episode, but never seen, so we modeled our character's after those futuristic pirates to interact with all the Battlestar Galactica groups that started showing up at Norwescon and Orycon. We called our group the Eldar, or Black Squadron. (Of course they were the EVIL pirates and the Galacticans ran from them in fear!) One year 2 of our members wanted to get married at Orycon in character and so they asked the Orycon program committee for permission and they had the first wedding at a NW convention, the story was featured in the Portland paper and the story was picked up by the AP wire and later published in 4 national ewspapers.
The group split up shortly after that and reformed into another LARP group called The Elan Empire, who at the time of formation were the NPC in a LARP game being presented by another LARP group called Constar. Think of it as a galactic shipping company game and each convention the game would continue to the next convention or port of call. It was at this time we thought the Elan Empire needed to up its game and so at a Westercon in the Bellevue Red Lion we performed the first formal Court of the Elan. We invited all the LARP groups that were active at the time to participate and a great time was had by all. Awards were given out, new friendships were forged. But in all things, people's paths change, people move on and so the Empire of the Elan was finally shut down after 23 years of performing at the NW Conventions.
RustyCon became Michael's home convention and so he went back to doing technical support at the convention, he worked his way up from assistant programming director, to programming director, Special Events, Operations, and Vice Chairman. After RustyCon 30 he was voted in and became chairman and would lead the convention for the next 4 years and 2 hotel changes. He was instrumental in finally convincing the RustyCon Board of Directors and the Convention Committee that for RustyCon to survive in the future, we needed to get away from a January Convention date. It was approved and RustyCon changed the dates of the convention and the hotel. After January 2018 Michael stepped down and went into semi-retirement from conventions. Michael is still very active in the Celestial Convention as Chairman for the Memorial Service of those in NW fandom who have passed through the veil. Michael will probably never completely retire from NW Fandom and he will be around for a while yet.